Space Station Commander Scott Kelly on the International Space Station posted the following photo on his Twitter feed (@StationCDRKelly) just about an hour ago, at 7:24 pm ET September 22, 2015. To zoom in, first click on the photo to take you to Twitter, and then click on the photo again.
At night the Nile river and Nile river delta in Egypt, Israel, and the western shore of Saudi Arabia on the Red sea are ablaze with lights from human activity. The thin arc of green and red is Earth's atmosphere. Compare his photograph to the map below. The distance across the bottom of the photo is about 300 miles. At the speed of the ISS, currently 17,154 mph, the astronauts will cover that distance in 1 minute.
In this one image – physics, Earth science, geography, art, geopolitics – and a recognition that thousands of students across SSEP Mission 7, 8 and 9 are part of the adventure.
You're invited to follow the Twitter feeds of the astronauts aboard ISS on the SSEP Home Page, under the Section titled "Multimedia".
Day 179. The #Nile at night is a beautiful sight for these sore eyes. Good night from @space_station! #YearInSpace pic.twitter.com/eAMBZ9p428

— Scott Kelly (@StationCDRKelly) September 22, 2015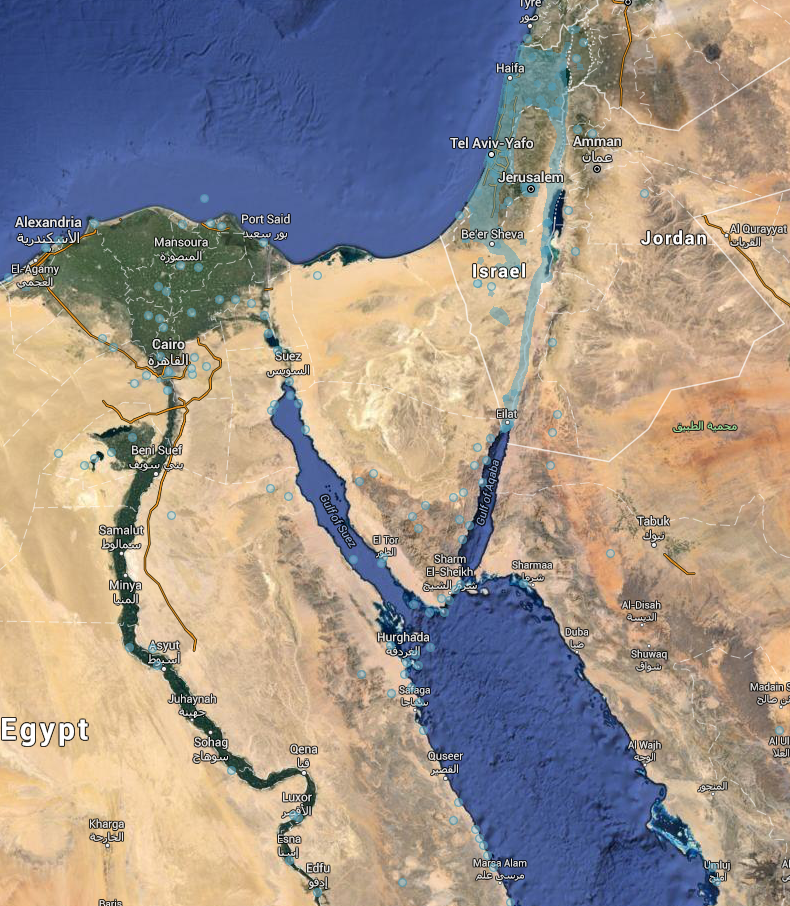 ---
The Student Spaceflight Experiments Program (SSEP) is a program of the National Center for Earth and Space Science Education (NCESSE) in the U.S., and the Arthur C. Clarke Institute for Space Education internationally. It is enabled through a strategic partnership with NanoRacks LLC, working with NASA under a Space Act Agreement as part of the utilization of the International Space Station as a National Laboratory. SSEP is the first pre-college STEM education program that is both a U.S. national initiative and implemented as an on-orbit commercial space venture.
The Smithsonian National Air and Space Museum, Center for the Advancement of Science in Space (CASIS), and Subaru of America, Inc., are U.S. National Partners on the Student Spaceflight Experiments Program. Magellan Aerospace is a Canadian National Partner on the Student Spaceflight Experiments Program.